PotterCast 182: MoshiMoshi New Trailer!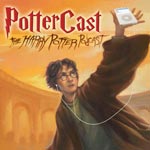 Jan 27, 2009
Uncategorized
The newest episode of PotterCast, our Harry Potter podcast, is now online with fresh discussion of the latest Harry Potter trailer (which can be viewed right here) to appear online. The show starts out with Sue's News, which contains the information behind one of the working titles of Harry Potter and the Deathly Hallows, more video from The Tales of Beedle the Bard release, charitable donations from J. K. Rowling and Emma Watson, Deathly Hallows test shoots, and, of course, the new trailer from Japan. The quartet then focuses on the new trailer, discussing the new clips from the film, actor Alan Rickman (Severus Snape), Greyback and the Death Eaters, Weasleys' Wizard Wheezes, movie Dumbledore vs. book Dumbledore, and much more. We then take some live calls from listeners who give their opinions on this latest look at the upcoming Half-Blood Prince film. We then bring you the next installment of the PotterCast Acting Troupe, which features the continuing journey of young Albus Severus during his first year at Hogwarts. The show then wraps up in the drums with a most special announcement about the next episode of PotterCast, LeakyCon 2009 registration rates, and a reminder to be sure to keep your eye on LeakyNews.com for more fun. To listen, just
hit the "Play" button on
the right
side of the
page (–>), or use iTunes, or direct download.
"MoshiMoshi New Trailer!"
A thousand awesome items.
The Krum Saga.
The last time we get Hagrid's Hut.
Japanese Trailer Frame by Frame in our Galleries.
Harry is becoming the man.
"Diagon Illy."
Calls and opinions from listeners.
The PotterCast Acting Troupe.
"Browser, A History."
Keep an eye on LeakyNews.com!
Go to youtube.com/pottercast for our daily vlogs.
Register for LeakyCon 2009 now!
RT: 85:07
Producer: John Noe
Contributing Editors:
Jeff Gregory
Kaitlin Menzie
Armin Vollstedt
LeakyCon 2009: A Harry Potter Conference in Boston
"Harry, A History" Website
Jingle Spells 2
PotterCast Vlogs
Podcast Alley
Digg
Direct download low-bandwidth.
Remember you don't need an iPod to listen. Listen easily on iTunes, which you can download and install here, by clicking here to listen, or you can just use the streaming Flash player at PotterCast.com or just on the right side of this page. Discussion of the PotterCast is right here. Enjoy!