Harry Potter and the Half-Blood Prince Rated "PG" (Updated: Now on MPAA website)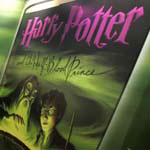 Jan 07, 2009
Uncategorized
A new report is online today, stating a rating has been given to the upcoming Harry Potter and the Half-Blood Prince. Rope of Silicon is reporting that the sixth Harry Potter film has been rated PG for
class="lower">"scary images, some violence, language and mild sensuality." Update: This has now appeared on the MPAA website, with a definite PG rating.
As readers will recall GoF and OotP have both been rated PG-13, with PoA the last PG rated movie in the series.
Thanks to Rope of Silicon and Kyle
class="lower">