Winner of Garden Gnome Tree Topper Contest Announced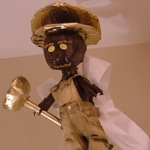 Jan 08, 2009
Uncategorized
Last month, we asked you to create a Christmas-themed gnome for our Garden Gnome Christmas Tree Topper Contest. After receiving many amazing entries, our Contest Crew has chosen the winner of this contest, along with an additional entry deserving of an honorable mention. Here now is the winner of the contest:
First Place: fw00per

In honor of Fred, there is
really only one way to go with a garden gnome topper, what with
dungbombs and stealing Hogwarts toilet seats as some of the highlights
of his career. So here it is – an angel gnome with a plunger scepter,
toilet seat halo and toilet paper wings, all charmed with a golden
heavenly sparkle.
Honorable Mention: Dulcina Vale

This entry is a model of a gnome/mermaid, made from wire and papier mache and painted.
Many congratulations to all! The first place winner of this contest will be receiving a custom made wand from Wizard Wood Wands as a grand prize.
As a reminder, the Story-That-Answers-A-Question Contest is still open for submissions. To find out more about this contest, and how to submit your entry, click here.