Third Annual Quidditch World Cup Event Due this Month at Middlebury College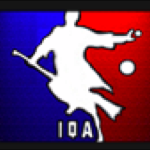 Oct 06, 2009
Calling all Quidditch fans. Great news today as the Third Annual Quidditch World Cup event is due to take place again on October 25th at Middlebury College in Vermont. According to the Facebook page for the event "26 teams from around the country and beyond will compete for the title
in a field that includes Washington University, Oklahoma State, and the
University of Texas. Tournament play will be double elimination on
three fields across Battell Beach." The full list of teams competing will be released shortly. For more, be sure sure to check out this website, or follow all the action on their Twitter here. This event is always quite popular and we will update with more when we can!
Thanks to Emily and Trish for owling!