Helen McCrory: WB is "letting out all the stops" with Harry Potter and the Deathly Hallows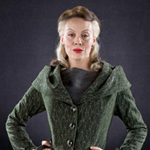 Oct 05, 2009
Exciting news today in the form of a new interview with actress Helen McCrory. Speaking to UK Rotten Tomatoes, the actress discusses her role as Narcissa Malfoy in Harry Potter and the Deathly Hallows, confirming the cast will be doing a read-through today of the script for Part Two, the bulk of which is due to begin filming this month. She also says fans will be in for a treat with these final installments in the Harry Potter series, noting "her work on Deathly Hallows was going well and promised an
epic finale for Potter fans. "It's got a full stop," she told us. "I
think up to now, every director who has done a Harry Potter
has had to do a dot-dot-dot. They know it's a sequel, they know there's
another film coming out. But with this one, we can actually make
everything have an epic ending. It's going to be final. And it's going
to be huge. There doesn't have to be any more pauses or dot-dot-dots.
So they're letting out all the stops with this one."
Helen McCrory also reflects on the ending of the story for the cast and crew, as well as for the characters in the series, notably Harry Potter.
"We finish in April and it does feel different on set actually,"
she explained. "Some people have been doing it for 10, 11 years. It's
part of their lives. So although I've just joined them at the end, a
lot of people have a huge emotional commitment to it. There are
children that have grown up with the people on the set, like the
directors and the costume designers backstage. It's a very big occasion
for those people."
Despite the magical challenges faced by Harry and co. as Voldemort
continues to gain power, McCrory thinks that what makes director David Yates' time on the series so special is his attention to the more human aspects of the franchise. "[Half-Blood Prince]
was definitely filled with teenage angst, and you remember how violent
teenage angst is. There's nothing romantic about it. You're thinking,
Oh my God, what am I going to do for the rest of my life? You're
starting to make decisions about the rest of your life. I think [David
Yates] really summed that up in a very real way, and a very serious way.
"I think with these next two films, he's looking at this character
becoming a man. And that again, is quite an epic story. That's Ulysses.
Rites of passage. It's exactly what Noel Clarke did, in a way, with Kidulthood. We still watch those stories, whether they're set in Hogwarts or New Cross."
Thanks so much to Joe from Rotten Tomatoes UK!