J.K. Rowling to Receive First Hans Christian Andersen Award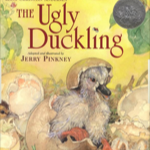 Oct 06, 2009
Harry Potter author J.K. Rowling has been selected to receive the very first Hans Christian Anderson Literature Prize next year in Odense, Denmark. Given in honor of the prolific author of classic fairy tales such as The Princess and the Pea, The Emperor's New Clothes, The Ugly Duckling and many more beloved stories, the Copenhagen Post reports:
"The literature prize is to be awarded to someone who can directly or indirectly be compared with Hans Christian Andersen.Rowling
has sold more than 400 million copies of her Harry Potter books and is
often credited with encouraging a new generation of children to enjoy
reading.The 44-year-old author will receive the award in a ceremony on 19 October 2010.
The
city already has a strong link to Rowling's books and hosts an annual
Harry Potter Festival, which transforms the City Hall into Hogwarts
School for witches and wizards. The festival is run in conjunction with
the public library to encourage children to read."
As noted above, JKR is due to receive the award in person next year and we will report on that when the ceremony takes place. Congratulations Jo!