Cast Signed Half-Blood Prince Book, Uncorrected Proofs and Signed First Edition Harry Potter Novels Due for Auction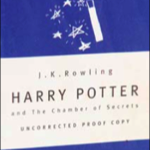 Nov 24, 2009
Next month, there will be a very large auction for a number of rare and valuable collection of children's literature including several Harry Potter novels by author J.K. Rowling. With the auction to take place on December 16th, items of note will include a rare uncorrected proof of Harry Potter and the Prisoner of Azkaban, uncorrected proof copy of Harry Potter and the Chamber of Secrets, plus the first four Harry Potter books, Deluxe Edition, signed by J.K. Rowling (larger photo here) as well as a few other signed copies of her books. Also of interest is a first edition (UK children's) of Harry Potter and the Half-Blood Prince (larger photo here) which is signed by many cast members as follows:
"Signed
on the front endpapers by the following cast members of the film:
Michael Gambon (Dumbledore), Daniel Radcliffe (Harry), Emma Watson
(Hermione), Maggie Smith (Prof. McGonagall), Emma Thompson (Prof.
Trelawney), Imelda Stanton (Dolores Umridge), Ruper Grint (Ron), Oliver
Phelps (George Weasley), James Phelps (Fred Weasley), Devon Murray
(Seamus Ginnigan), Katie Leung (Cho Chang), Matthew Lewis (Neville
Longbottom), Jamie Waylett (Vincent Crabbe), Alfie Enoch (Dean Thomas),
Tom Felton (Draco Malfoy), Bonnie Wright (Ginny Weasley), David Bradley
(Argus Filch) and Afshan Azad (Padma). All the actors have signed their
character names under their signatures and David Bradley has added a
small sketch of his character's cat, Mrs. Norris."
Please note: While the news of the Harry Potter items is of course very interesting, many of us here are true lovers of literature and as such, this editor strongly urges you to view the other items up for auction and download the catalog here (PDF) As noted in the LA Times, also found in the catalog are some rare and frankly truly wonderful looks (larger sized photos too) at some of the greats including "Alice's own copy of "Through the Looking-Glass, and What Alice Found
There," a first edition of "The Wonderful Wizard of Oz" and Beatrix
Potter's personal copy of "The Tale of Peter Rabbit." Other first-edition children's books for auction include "Stuart
Little" signed by E.B. White; "The Fellowship of the Ring" by J.R.R.
Tolkien; "Watership Down" by Richard Adams; and "Mother Goose in
Prose," L. Frank Baum's first book, in which Dorothy makes her debut. A
copy of "The Lion, the Witch and the Wardrobe" is accompanied by a
letter about Narnia written and signed by C.S. Lewis. There are also
limited editions of "Winnie the Pooh," "The House at Pooh Corner" and
"Now We Are Six," all inscribed by author A.A. Milne and illustrator
Ernest H. Shepard." Absolutely marvelous, enjoy!