PotterCast 210: Jingle This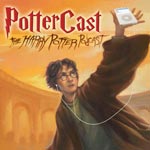 Dec 08, 2009

A super-sized edition of PotterCast, our Harry Potter podcast,
awaits you for our 210th episode of Potter news, discussion, and fun
including an indepth discussion of the brand new sneak preview for
Harry Potter and the Deathly Hallows (high res video and screencaps
here). In news, Sue also brings us up to date on such things as the
release of Jingle Spells 3, Wizarding World of Harry Potter Theme Park
updates, the Half-Blood Prince
DVD features, and EW's J. K. Rowling Entertainer of the Year award, as
well as discussion of the recently released Harry Potter and the
Half-Blood Prince DVD as well as the two Ultimate Collector's editions.
A MailBag segment follows where the PotterCasters turn to the
LiveStream audience for questions and comments about the Deathly Hallows preview
trailer and more. This extended PotterCast continues with a track by
track preview of our new Jingle Spells 3 CD. The drums bring us more
talk of the iPhone Harry Potter Spells application, The Favorite Place, and our own Sue Upton's special note about her mother. On this subject, Sue wished to note the following:

From Sue: Please forgive this personal note, but as many of you know, I was unable to go on tour with PotterCast this summer as my family had to take priory. As you might have seen either on my Facebook or Twitter, earlier this month, my beloved mother lost her battle against ALS (Lou Gehrig's disease) At the moment, frankly I am faltering quite a bit these days, but please know all the kind words support and condolences have meant so much to my entire family and truly so, it is very much appreciated. You can learn more about ALS at this link.
Thank you again, with much love,

Sue
As a reminder, the LeakyCon DVD, which will be available to pre-order soon, will also include all wizard rock performances from our conference. If you like live wizard rock, be sure to reserve your copy of the upcoming LeakyCon Live Album of the wizard rock live shows at our LeakyCon 2009 conference. To listen, just hit the "Play" button on the right side of the page (–>), or use iTunes, or direct download.
"Jingle This"
RT: 99:50
Producer: John Noe
Editor: Michael Beckett
Also, special thanks to our ever-vigilant UStream Mods for monitoring the live PotterCast recordings.
LeakyCon 2011: A Harry Potter Conference in Orlando!
"Harry, A History" Website
Jingle Spells 3
PotterCast Vlogs
Podcast Alley
Digg
Remember you don't need an iPod to listen. Listen easily on iTunes, which you can download and install here, by clicking here to listen, or you can just use the streaming Flash player at PotterCast.com or just on the right side of this page. Discussion of the PotterCast is right here. Enjoy!
---
Leaky's Harry Potter Twitter list is the most exhaustive collection of news and official Harry Potter information in the world. Be sure to follow it today!