Give Jingle Spells this Holiday Season with New Gift Certificates!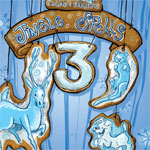 Dec 01, 2009
Charity+Christmas+Harry Potter+Rock = what are you waiting for?
As we announced previously, Jingle Spells 3, the third album in our hugely successful holiday charity series is now available for order – but this year we have added an extra feature and we're excited about it: Gift certificates!
Now it's easy to send someone you love or just someone who loves Harry Potter a great themed holiday present.

PLEASE NOTE: Orders of the physical disc will be shipped the week of December 13. Only those orders placed by December 10 will be processed at that time. How do you order the physical disc, you ask?


size="+1″ color="#990000″>Order Jingle Spells 3!
size="+1″ color="#990000″>This order link is for the PHYSICAL disc. Includes original artwork by Frankie Franco III.


Jingle Spells (compact disc delivery)
color="#990000″>$15.00
color="green">Listen to a sample of the whole disc!

Remember you can also download individual tracks or the entire album of Jingle Spells 1, Jingle Spells 2, and Jingle Spells 3. You can also get the entire downloadable collection for $28, a major discount.
Happy shopping!