Harry Potter Series Best of the Year List RoundUp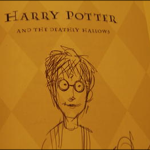 Dec 26, 2009
As newspapers continue to take stock of this past decade, the books and films of the Harry Potter series make an appearance on a number of new end of the year lists. First, the Globe and Mail names the seventh book, Harry Potter and the Deathly Hallows, their Book of the Decade. The Canadian newspaper writes that the book was not only "…the single most awaited, debated and anticipated volume, it also can stand for Harry Potter as a phenomenon, for a series that grows more sophisticated and darker with each episode, a series in which millions of people fret over the fates of the beloved young wizard, his pals and mentors as they battle the forces of evil marshalled by Lord Voldemort." The article continues, noting the acceptance of the novels beyond conventional age and gender boundaries, saying:

Millions of children, especially boys, for whom reading had been something remote, intimidating, uninteresting, took to Potter as a wizard to a wand. You couldn't walk through a mall, an airport, a park without seeing one or another of the series in the hands of a young person. And not young people alone; adults devoured the books as well (when they didn't accuse them of promoting witchcraft). The Harry Potter books may have created a generation of readers, and, if we're lucky, it may not be the last such generation.
Next, AOL Moviefone named "Harry Potter and the Prisoner of Azkaban" one of their "Best Movies Ever: The 00s." Coming in at number ten, the Alfonso Cuaron directed film adaptation of the third book is listed along side such other films as "The Incredibles," "Eternal Sunshine of the Spotless Mind," "The Dark Knight," and "Lord of the Rings: The Return of the King." In regards to their decision, the article notes:

Darker than the first two Potter films, to legions of fans the third installment of J.K. Rowlings' juggernaut may or may not be the best of the bunch; but, really, what Muggle wouldn't enjoy this.
Finally, on a related note, AceShowbiz.com has included the upcoming "Harry Potter and the Deathly Hallows: Part I" on their list of the Ten Must-See Sequels of 2010.
"Harry Potter and the Deathly Hallows: Part I" will arrive in theaters November 2010.