It's a Happy Sparkling Christmas for Harry, Hermione and Ron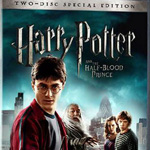 Dec 07, 2009
Thanks to Virgin Media who let us know about a festive approach they are taking as they launch all six Harry Potter films on Virgin Media Movies on Demand this holiday season. Created by UK artist Prudence Emma Staite, three fresh and creative portraits were made of Harry (Dan Radcliffe), Hermione (Emma Watson) and Ron (Rupert) using traditional Christmas decorations and food. In beautiful colorful high res we can see:
Dan Radcliffe as Harry Potter. His portrait was made with fairy lights, stars, baubles, holly, mistletoe, ivy, tinsel ribbons, tree decorations and candy canes.
Emma Watson as Hermione Granger: Her portrait was created with Christmas wrapping paper, cards, card confetti, ribbons, bows, feathers, beads, gift boxes, holly and ivy.
Rupert Grint as Ron Weasley. His portrait was made with winter treats including Christmas pudding, mince pies, Christmas cake, oranges, walnuts, raisins, glace cherries, dates and cloves.