Emma Watson, Rupert Grint Talk Snogging for Harry Potter and the Deathly Hallows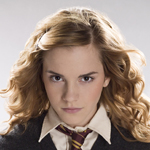 Feb 10, 2009
Uncategorized
While at the BAFTAs over the weekend in London, England, actress Emma Watson made some new remarks on the upcoming Harry Potter and the Deathly Hallows. The Telegraph reports that Emma is a bit anxious about her first screen kiss as Hermione Granger, especially when it involves her long time co-star, actor Rupert Grint (Ron Weasley). Quotage:
"Well I've never had to do it before so I can't say I have any techniques,"
she says. "I've never had to kiss anyone on screen so it is all new to
me.
"Of course I am nervous about it. But, apparently it gets quite boring
after a couple of takes, that's what Dan said to me anyway."
The same article also contains older comments from Rupert on the upcoming kiss, where he said "As I've known Emma for so long, I reckon it will be 10 times worse," he
said.
"I really love the seventh book, but there is no way it will be tame with
the Hermione stuff."
The actor claimed he fills in crosswords to ease the awkwardness between takes
and will bring "a stack of crosswords" to the Harry Potter set.
Harry Potter and the Deathly Hallows formally goes into production later this month, with part one due to be released in November, 2010, followed by part two in May, 2011.