New "Half-Blood Prince" T-Shirts from Germany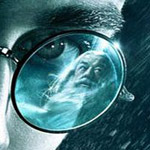 Feb 17, 2009
Slowly but surely we will begin to see new products tie into the release of Harry Potter and the Half-Blood Prince. Today we have one example of that as Elbenwald.de has a look at a series of new HBP themed t-shirts for sale in Germany. Featured are the "Dark Arts" collection shirts, with several showing Alan Rickman as Snape, bearing the Half-Blood Prince logo, and others with the words "The Unbreakable Vow" with a photo of Tom Felton as Draco, and a few bearing the words "Death Eaters" on the front with the Dark Mark on the back of the shirt.
Also new is "The Gryffindor Quidditch" collection, with many shirts featuring the various positions on the team (Captain, Keeper, and one with the words "R. Weasley" on the back and a photo of Rupert Grint as Ron), and finally they have the "Hogwarts" collection with a shirt featuring Fawkes.
We do not know if these shirts will be available solely in Europe and will update with more on the availability of these items when we can.