MTV Reveals Two New Pics from Half-Blood Prince Sneak Peek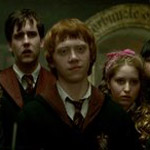 Feb 18, 2009
MTV has posted this article about their upcoming visit to the set of Harry Potter and the Half-Blood Prince that includes two new photos of actress Emma Watson as Hermione, and Rupert Grint as Ron Weasley. The first photo shows Emma receiving last minute costume fixes, as Emma sports a winter hat and coat for the scene. The second photo features Ron standing in a crowd of people, also wearing outdoor gear, with possibly a green screen behind him. The article also confirms we will be hearing new interviews from Emma, Rupert, Dan Radcliffe on his role as Harry Potter, as well as comments from director David Yates. Quotage of interest:
"Newcomer Jessie Cave " known better as Lavender Brown " regaled us us about her unrehearsed kiss with budding stud Rupert Grint .And of course, there's the important scene at the end on top of the Hogwarts castle ramparts."
As reported earlier, MTV will be airing the new footage this weekend on Saturday, February 21st at 8pm (ET).