JK Rowling is Up to No Good… for a Good Reason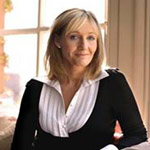 Feb 21, 2009
Today, we are happy to report that J.K. Rowling has been up to no good….for a good reason. The Harry Potter author paid a visit to a hospital in Edinburgh, Scotland, where she brought cheer in the form of unique graffiti on the walls of the unit. The Scotsman writes: "Ms Rowling, 43, daubed graffiti on the walls of the Young People's Unit
at the Royal Edinburgh Hospital in Morningside, which cares for
teenagers with complex psychiatric conditions.
Consultant
psychologist Dr Jane Morris said: "She really does spread magic. She's
a natural and knows how to talk to young people. And she's extremely
cool. She does graffiti on the walls which is probably worth a fortune.
"She's drawn all of us and wrote 'JK Rowling was here'.
…
And her way with the capital's troubled teens impressed staff.
Dr Morris said: "I'd offer her a job any time as she's already a great therapist."
We at TLC think that Peeves certainly would approve!