Evanna Lynch, Sue Upton, and More Join HP Alliance's "Accio Books": Live Chat Sunday at 1pm EST!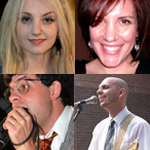 Feb 25, 2009
Sunday, to celebrate the launch of "Accio Books," a new house-themed effort to galvanize Harry Potter fans to donate books to those who need them most, the HP Alliance will host its third live Dumbledore's Army meeting. This meeting, which will take the place of a live chat at this channel on Ustream, will feature the new heads of HPA's Hogwarts houses, who will be heading up the HPA effort.
Evanna Lynch, otherwise known as Luna Lovegood in the Harry Potter films, will serve as the head of Ravenclaw house!
Our own Sue Upton, she of all yellow, will be the head of Hufflepuff!
Wizard rock pioneer Paul DeGeorge (from Harry and the Potters) will head Gryffindor!
Brian Ross (Draco and the Malfoys) will serve as head of Slytherin!
ALL the head of houses will be on the call – which will be SUNDAY, MARCH 1, 1pm Eastern – as it will mark the kick off of the "Accio Books" campaign, and the HPA's House Cup competition. On Sunday you will be able to sign up at www.thehpalliance.org and start donating books!
During this effort, every book you donate to a local organization will get your house five points. You will get 10 if you send them to the HPA for donating to this youth village in Rwanda, and 15 if you donate Harry Potter books to the village.
class="ArwC7c ckChnd" id=":28k">
The books can be new or used so long as they're in good shape.
Details on how to sign up will come on Sunday: you will have a prefect and Head of House to whom you will report. Your heads of houses, listed above, will ALL be on a conference call on Sunday to discuss the effort and the importance of donating our used books to those who need them most.
The campaign will last until March 31, so make sure to join us on Sunday to get all your details and get in on the action early!

IMPORTANT NOTE: At Sunday's chat, just like tonight, we will be taking questions and feedback from the chat present in the UStream room. However, because of the high volume expected, we will be more frequently taking questions and comments from The HP Alliance's Twitter account, which you can follow now. You can start leaving your questions there by posting a message that begins with @thehpalliance. Staffers will be monitoring this account and taking down questions throughout the weekend.
Questions may also be emailed to [email protected].
If you were at tonight's meeting you know how fun and informative these calls are: We will see you there on Sunday!