Harry Potter, The Exhibition: Extends Run in US until September 27, 2009, New Photos Now Available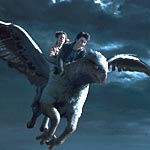 Feb 25, 2009
Harry Potter: The Exhibition is proving to be very popular with fans, even before the event in Chicago opens on April 30th. Originally scheduled to close on September 7th, TLC can now report the event has been extended an additional three weeks, and will now close on September 27, 2009. Tickets for the event at the Museum of Science and Industry in Chicago, Illinois do remain available via this link.
We can also show you brand new images of some of the items from the Harry Potter films fans will see at the Exhibit, including the beloved Marauders Map, a model of Buckbeak from Prisoner of Azkaban, and the infamous TriWizard Cup as seen in Goblet of Fire. Warner Bros also gave new insight on some of the things fans can see and do while at the exhibit including: Harry's original wand and
eyeglasses, Gryffindor school uniforms, as well as some of the elaborate costumes worn at the Yule
Ball. They will also be able take a tour through Hagrid's hut and enter a Quidditch area to toss a
"Quaffle."
Be sure to keep an eye on the Harry Potter widget and Wishlist for updates on the Exhibit, videos, games, and coupons good at the WB shop.