New Poll, New Concept Art of Dervish and Banges at Wizarding World of Harry Potter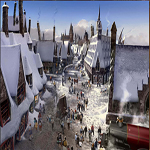 Feb 25, 2009
The great news keeps on coming as Universal Orlando has now released new concept art for the Wizarding World of Harry Potter theme park attraction: this of Dervish and Banges. Due to be located in the Hogsmeade village portion of the park, Universal says that the store "supplys the Wizarding community with school supplies, Quidditch gear and magical, wizarding equipment." At this store, park visitors will be able to purchase "authentic and unique items from the World of Harry Potter." Also new is a poll regarding which dragon you might like to ride (Chinese Fireball, or Hungarian Horntail).
The Wizarding World of Harry Potter theme park is currently under construction in Orlando, Florida and is due to open sometime next year.
Thanks Joel and Elizabeth!