JK Rowling, Knight of the French Realm (Updated)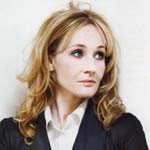 Feb 03, 2009
Uncategorized
UPDATE 4: Video of J.K. Rowling at the award ceremony is now online here via our galleries.
As reported yesterday, Harry Potter author J.K. Rowling has been awarded the prestigious Legion of Honor from France. Very early reports from the AP say that at "a ceremony in a gilded hall in the Elysee presidential palace," JKR received the honorary title of "knight". Update 1: Photos are now available here via UHP. UPDATE 2: The Washington Post has a quote from JKR at the ceremony where she mentioned Lord Voldemort:
Rowling also thanked her readers in France "for not having held a grudge against me for having given a French name to my evil character" in the series _ Lord Voldemort.
"I can assure you that no anti-French feeling was at the origin of this
choice," she said. "As a Francophile, I have always been proud of my
French blood. But I needed a name that evokes both power and
exoticism."
"Voldemort himself is 100-percent English," Rowling said in French,
pleading with the audience that included young French teens to forgive
her accent. She noted that she had once taught French in Scotland.
UPDATE 3: Thanks to TLC reader Rotfang, we now have a translation of two articles about the events in Paris today as follows:
President Sarkozy upon presenting the award in recognition of "a woman
of exceptional talent" who had returned a taste for reading back to
children, said:
"With you they learnt that reading was not a punishment, it was also a
source of pleasure." He also mentioned that 24 million copies of the
series had been sold in France.
President Sarkozy continued:
"The award is not only recognition for what you have done for children
in general but also for French children in particular ¦ The Harry
Potter series is a universe of initiation that allows the reader to
both decipher the world and to construct their place within it ¦ it is
a vehicle for values, and its educational benefits are proven."
Jo Rowling's response was given in French, and, after mentioning her
French great-grandfather who had received the Légion d'honneur in 1924
for his efforts at the Battle of Verdun during the First World War
(1914-18), Rowling continued:
"It gives me pleasure to think that he would be happy to know there is
another Légion d'honneur in the family and that the books written by
his descendant gave pleasure in the country of his birth."
"I also want to thank my French readers for not holding against me my
having given a French name to my most evil character. I can assure you
no anti-French sentiment lay behind my choice. As a Francophile, I was
always proud of my French blood, but I needed a name that would evoke
both power and a sense of exoticism. He of course, is 100% English.
Thanks much to UHP for the video! Congratulations Jo!