Harry Potter Set at Leavesden Open Again After Stunt Accident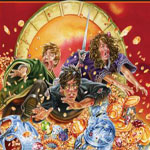 Feb 06, 2009
Uncategorized
The set where the Harry Potter films are made at Leavesden Studios in London, England has now reopened following an investigation into an accident involving a stuntman preparing for work on the upcoming Harry Potter and the Deathly Hallows. As we reported previously, this accident took place January 28 when stuntman David Holmes fell while testing an aerial stunt for the film, seriously injuring his back. The set was closely temporarily as investigators looked into the matter, but now the set is back in business as main filming on Potter seven is due to begin later this month. UK Channel 4 reports:
A Health and Safety Executive spokesman said: "We have carried out a
site visit and the set has now reopened. The investigation is ongoing."
The station also reports that Mr. Holmes remains in the "Royal National Orthopaedic Hospital, in Stanmore, north west London. In addition, an online group has been set up by family and friends, with "160 get well messages have been posted on a Facebook page set up
by Mr Holmes's brother Adam. The group David's Get Well Wishes has more
than 480 members."
Principal photography is due to start on the 15th of this month for Harry Potter and the Deathly Hallows, with part one to be released November of 2010, and part two in May 2011.