High Res Scans of Rupert Grint Blag Magazine Photo Spread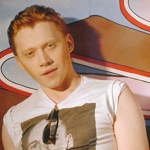 Mar 11, 2009
Readers will remember that late last month TLC reported actor Rupert Grint (Ron Weasley) was set to grace the cover of the April issue of Blag Magazine, which will also feature an extended photo spread and profile of the actor. Today, thanks to our Order partners RupertGrint.net, we now have for you six high res scans of Rupert from the issue. The images, which can be seen right here, show the actor in a variety of poses and looks for this photo spread.
RupertGrint.net also posted a few snippets from the interview which feature Mr. Grint discussing the support team he's had since first being cast in Harry Potter and the Sorcerer's Stone and possible future projects. The April Issue of Blag Magazine is currently on sale in the UK.
Many thanks to RG.net!