Join the Twitterverse with Matt Lewis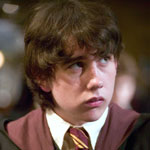 Mar 17, 2009
Can you hear it? Why yes, tis the Tweeting sounds of Matt Lewis! Actor Matt Lewis, known to readers for his role as Neville Longbottom in the Harry Potter films, has now officially announced that he has joined Twitter, the popular online short messaging service. Matt made this announcement via this Youtube video, which is part of a fun challenge is he doing with a friend. You can now follow Matt on Twitter at this link http://twitter.com/Mattdavelewis.
Free and easy to use, Twitter has millions of users, such as fellow Harry Potter actor Tom Felton, UK audio book narrator (and Twitter user extraordinaire) Stephen Fry. TLC has their official Leaky Twitter here, as does PotterCast and LeakyCon. Enjoy!
Thanks to the reader who emailed and to Lewis Lovers as well!