Robert Pattinson Nominated for Best Newcomer at Empire Awards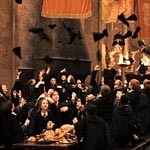 Mar 02, 2009
The nominees for the 2009 Empire Awards have been announced including a 'Best Newcomer' nod for actor Robert Pattinson (Cedric Diggory). Mr. Pattinson joins fellow 'newcomers' Gemma Arterton, Jim Sturgess, Toby Kebell, Hayley Atwell in this category.
In addition, a few projects featuring actors from the Harry Potter series have been recognized, starting with Brendan Gleeson (Professor Moody), Ralph Fiennes (Lord Voldemort), and Clémence Poésy (Fleur) for the film In Bruges, which received two nominations in the categories of Best Comedy and Best British film. Finally, the film Sweeney Todd garnered nominations in the of Best Horror, Best Soundtrack, and Best Director (Timothy Burton) categories, with Helena Bonham Carter (Bellatrix Lestrange) mentioned as a contender for Best Actress. Voting is now open for registered Empire Online members and runs through March 12th. The awards ceremony is slated for March 29, 2009.
Congratulations to all!