Tom Felton Talks Potter Actor Jam Sessions, and Wizard Rockers Draco and the Malfoys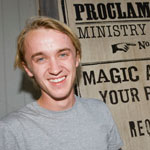 Mar 24, 2009
Actor Tom Felton recently gave a new interview to Feltbeats.com, where the Draco Malfoy actor discussed his love of music, jamming on the set with fellow Harry Potter actors, and even a bit on Wizard Rockers Draco and the Malfoys.
While it isn't quite the Weird Sisters at work on set, Tom Felton first discussed his long love of music, and time spent with fellow cast members playing music on the set. Quotage from the interview:
TF:As far as jamming on the set with people, I know James Phelps is a big
guitar man. I think he's more into his electric, shredding up the
e-string and that sort of thing. He was always working, though, as
well, so we never actually got a chance. One of the young chaps,
Freddie Stroma (Cormac) – we had a little jam once on one of the nicer
days outside. He brought his guitar and I had mine. And some of the
crew members as well.
FB: Were you wearing your school uniforms while you were playing?
TF: Yes, I think so. It was a really sunny day the day we played so I remember being really hot in my uniform outside!
FB: And doesn't Matt Lewis play?
TF:
And Matt Lewis, yeah! I didn't realize he jammed on the strings! He
sent me a message the other day. He said, "Loved the new song; I really
want the chords." And I didn't realize he played the guitar. That's
cool, that's cool. We've got another jammer on the list.
FB: Yeah, you guys should have, like, a Harry Potter Reunion Tour.
TF: Yeah, that's it. We should have a band, shouldn't we? Brilliant.
Talk then turned to the wildly popular Wizard Rock, where Tom Felton described learning of the fan based rock music recently while here in Florida, where he spoke on the phone to members of Draco and the Malfoys (Brad and Brian). In what is surely a cool thing, Tom described this encounter as follows:
TF: Well, you know, when I was in America, I was brought aware of this thing called wizard rock. Are you aware of such a thing?
FB: Oh, yeah, definitely!
TF:
Oh my god, I had no idea that people were actually making a living out
of singing about, you know, Harry Potter! It's craaazy, man! I find
that so fun!
FB: Have you heard any of the songs, then?
TF:
The funny thing is, we met a lady once who actually sung in one of the
bands. And she got some of her friends on the phone. I think it was a
band called 'Draco and the Malfoys'?
FB: Yeah, yeah!
TF:
Yeah, it's quite random! And I spoke to them, and was like, "Hello,
nice to meet you." I won't lie, I thought it was a novelty thing; I
didn't realize it had this huge following! And they actually have gigs
and stuff! I was like, "Wow!" I mean, 'Draco and the Malfoys' actually
toured Europe! It's incredible.
FB: And have you heard their song "Tom Felton's Kinda Hot"?
TF: Well, I think I heard about that… Aren't there guys in that band?
FB:
Yes, but it is from Draco's perspective, see? All the songs in wizard
rock are from the perspective of the character the group is named
after. So this song is about how Draco thinks you're a good actor to
play him in the movies.
TF: Well, there you go. How bizarre! How bizarre. Wow, well, that gives me more insight!
Thanks to Feltbeats, and much to Emma from Snitchseeker, who emailed about their questions that Tom answered!