Winners of Chocolate Frog Contest Announced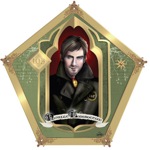 Mar 06, 2009
As readers will remember, last month TLC launched a new contest which asked you to create a Chocolate Frog Card for one Neville Longbottom. After receiving scores of wonderful submissions, our Contest Crew has picked the winners, along with an honorable mention, for this contest. The winners for the Neville's Chocolate Frog Contest are as follows:
The first place winner of this contest gets a free wand care of Wizard Wood Wands.
On a related note, our Top 10 Ways to Spot a Werewolf Contest is currently still accepting entries, so do not delay in submitting your lists. Complete information on this contest can be found right here.
Congratulations to all!