Interview with Composer of Harry Potter and the Half-Blood Prince Video Game Soundtrack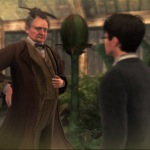 Mar 09, 2009
Composer James Hannigan has given a new interview to the BBC, where he discusses his work on the music heard in the Harry Potter video games. At this link to the article, you can also preview the theme that will be heard in the upcoming Harry Potter and the Half-Blood Prince video game. Those with sharp ears will recall that indeed that music has been used recently in trailers for the new HBP game from EA.
In the interview, Mr. Hannigan says that he takes into consideration work done by the Harry Potter film composer, in this case Nicholas Hooper for HBP, as he says
"There has to be a similar approach to the music" says Hannigan.
"I'll work some of the famous Hedwig's Theme into some of the music to
identify it as Harry Potter – it's very much the game of the film".
The soundtrack for the game was recorded by the Philharmonia
Orchestra at Pinewood's Air Studios. At the moment, such a grand level
of music production is relatively unusual in a game, and typically only
reserved for so-called AAA games, those with the biggest budgets.
The interview continues with the following on the nature of music for these videogames:
"The biggest difference between games music and film music is really the function" says Hannigan."You have to remember that the gamer is both audience and participant –
they're observing this world, they're watching a story, but they're
also a participant in the story ".
Pre-orders for the video game of Harry Potter and the Half-Blood Prince are available now, with the game out in July of this year.