Platform 9 3/4 Discovery Named Best-Loved Scene by Oreo Poll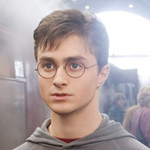 Apr 10, 2009
The moment when Harry crosses the magical gateway onto Platform 9 3/4 in the Harry Potter and the Sorcerer's Stone film has been named the "single best-loved scene from a family film" in a new poll conducted by the Oreo cookie company. The Telegraph is reporting that the scene was chosen after the cookie company polled "2,000 parents and children about their favourite films and scenes to discover which ones spanned the generations." Other top movie moments include the chimney sweep dance in Mary Poppins, E.T.'s 'phone home' moment, and the singing Oompa Loompas in Charlie and the Chocolate Factory.
In addition to this, the Harry Potter films were named second to the classic Disney film Mary Poppins in a list of the Top Ten Family Films to Span the Generations. The compete top ten list is as follows:
Mary Poppins
Harry Potter
The Wizard of Oz
Bambi
ET
Charlie and the Chocolate Factory
Star Wars
Grease
Home Alone
Shrek
Thanks to all who mailed!