New Half-Blood Prince Trailer to Show in Theaters before Ghosts of Girlfriends Past May 1st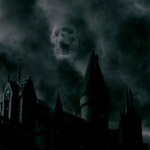 Apr 15, 2009
USA Today has a preview of the new trailer for Harry Potter and the
Half-Blood Prince will be released tomorrow night at 9:00 pm (Eastern).
The paper reports this trailer will also be showing in movie theaters
on May 1st before Ghosts of Girlfriends Past. Director David Yates is quoted as saying:
"Once you're hooked into these stories, it's really difficult to let
go," director David Yates says. "The audience has grown up with these
characters. I think that gives them a very special relationship. I
can't think of any other movie franchise that has had that. They
started out at 10 or 11, and now they're 18 and 19."
You can also see the new photos now here in our galleries, including a cursed Katie Bell hovering in the air, due to the necklace, Dumbledore waiting in the train station (note the sign behind him) another of Severus Snape by a burning Hagrid's Hut, Fenrir Greyback the Werewolf, grabbing a victim, a closeup of the Dark Mark over Hogwarts, and a dramatic shot of a crazed Bellatrix casting a spell in the Great Hall.