Now Online: The Full Trailer for Harry Potter and the Half-Blood Prince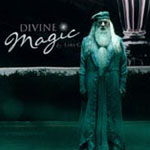 Apr 16, 2009
Behold: the full length trailer for Harry Potter and the Half-Blood Prince is now online!
Enjoy in glorious Quicktime High Definition: here (med), here (super large) and here (small). It is also available here in our galleries. Update: Yahoo has also released new character banners here!
Direct links as follows:
Windows High Definition:
Large
Medium
Small
Quicktime Standard
Large
Letterbox
Medium
Small
Windows Standard:
Large
Medium
Small
This full length trailer for the sixth Harry Potter film is a dramatic
serious trailer, full of new music, stunning new footage, most notably
Snape whispering "It's Over."New are dramatic scenes in the cave, new
dialogue from Dumbledore on how he can not destroy it by himself, and
Lupin speaks about a mission given to Draco Malfoy. There are new shots
of Ginny reaching out to Harry saying "take my hand," and then, they
hold hands. Also new are shots of the Quidditch stadium, a close up of
the Dark Mark, Hermione smacking Ron on the shoulder with her book in
the Great Hall, stunned students standing at the bottom of the tower,
Draco, Harry and Sectumsempra fight in the bathroom, a cursed Katie
Bell hanging in the snowy air, much to the horror of the Trio, new
shots of the creeping crawling Inferi, Draco wavering on the Tower
saying "I have to do this," new footage of the Death Eater attack on
the Bridge in London and much much more.