New HBP Trailer Roundup: Check out High Definition ScreenCaps and More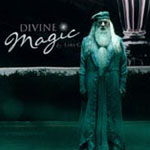 Apr 17, 2009
In case you missed it last night, Warner Bros has now released the full and final cinema trailer for Harry Potter and the Half-Blood Prince. Available here in our galleries, please check this post for all the direct download links. Info on our live PotterCast Trailer talk show from last night can be found here. Of note are the many new scenes from the upcoming sixth Harry Potter film, as witnessed in our fantastic High Definition screencaps we now have available here in our galleries. Among the many new looks are:
Night shot of Hogwarts and the grounds (with a mystery person at a wall; Filch perhaps?)
Severus Snape (Alan Rickman) as he whispers "It's Over"
The Students of Hogwarts and Madam Pomfrey (Gemma Jones) as they react to the events on the Astronmy Tower (note the emotion in their faces, particularly Luna (Evanna Lynch) and Rupert Grint (Ron Weasley)
A jealous and angry Hermione (Emma Watson) clutching her copy of 1000 Magical Herbs
Ginny reaching out to Harry, as they then hold hands
A chilling and stark photo of a cursed Katie Bell, screaming in horror from the dark magic of the necklace
A tormented Draco (Tom Felton) struggling with the task he is so reluctant to do on the Astronmy Tower
New Slughorn speaking to Harry and Dumbledore outside his temporary house in Budleigh Babberton
Luna wearing her Lion Hat, cheering alongside Neville (Matt Lewis) in the Quidditch Stadium
Dumbledore, the Divine 😉
Lupin, Tonks, with the Weasleys as they watch the Burrow burn
Dumbledore and Harry casting a spell in the Cave
The Empty Qudditch Stadium (with perhaps Ron on his way to pratice?)
Caution to parents of small children: a disturbing photo of Creepy Crawling Inferi
Also as posted previously, Yahoo released new Half-Blood Prince character posters including:
New photo of Hermione and Slughorn
Quidditch Ginny and Ron Weasley
Draco Malfoy and Severus Snape
Dumbledore and Harry Potter
UPDATE: WB also sent over High Res stills from the trailer as well, including Draco (Tom Felton), Slughorn (Jim Broadbent), Dumbledore with the fire, Orphan Tom Riddle here and here, Snape (Same photo of Alan Rickman as above), Ron Weasley (post poisoning), Pensieve Dumbledore, another cheering Quidditch crowd, stricken and emotional students, Bellatrix destroying glassware in the Great Hall, several of Harry Potter (Dan Radcliffe) here here, here and here.
Thanks so much to our hard working galleries teams!