UK Cover Art Sketches for Prisoner of Azkaban Up for Auction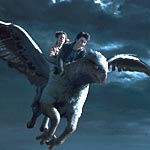 Apr 18, 2009
Two sketches drawn by artist Cliff Wright for the cover of the UK edition of Harry Potter and the Prisoner of Azkaban are set to be auctioned later this month. The Scotsman reports that the pen and pencil sketches used to create the front and back cover artwork for the third Harry Potter novel will be on display then up for auction at the Glasgow Art Fair. The cover, which you can see here via the official Cliff Wright website, famously features Harry and Hermione flying on Buckbeak. The paper reports that "the front illustration, which features the bespectacled wizard and his
classmate Hermione Granger clinging to the back of hippogriff, is
expected to sell for £13,000. The second sketch, which features a
snarling dog, is predicted to raise £11,000." Update: You can see both the sketches here in our galleries: One, Two (the dog).
Cliff Wright also gives new comments on working with author J.K. Rowling: "The images are part of a series of 10 which were sent to the publisher
Bloomsbury as rough ideas for character development and composition,"
he said. "Each drawing was submitted by fax and returned with
comments. The designs were also passed on to JK Rowling for her
approval and any comments passed back to me. "On deciding the
look of the characters and the picture composition, the watercolour
illustration that you see on the cover was then completed, and when the
book was published in the autumn of 1999 it became a global phenomenon."