(Updated Now with Video) Photos of Location Filming in London for Harry Potter and the Deathly Hallows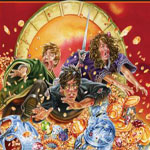 Apr 21, 2009
Following to what TLC first told you last night, photos from location filming for Harry Potter and the Deathly Hallows are now online. Thanks to FadedYouthBlog for letting us know they have the first pics of what seems to be the Cafe Attack scene, which you can now see here in our galleries, including photos of actor Dan Radcliffe, Rupert Grint and Emma Watson at work as their characters of Harry, Ron and Hermione in London. UPDATE: O.K. this is cool, check out this photo of Hermione (Emma Watson) and her magical handbag

UPDATE 2: Thanks much Jo for letting us know about video of the filming now here in our galleries, courtesy of Splash news.
At last word, filming is set to resume tonight in Piccadilly Circus as well as near Shaftesbury Ave and alleyways nearby; note filming takes place late at night mostly between 11pm and 5:30am. Anyone who is attending the filming, please send in your reports and photos to [email protected]
Thanks to FYBlog, R, Michael, and all who emailed!