Preview of a Scene with the Smelly Sneaky Thief Named Mundungus Fletcher in Deathly Hallows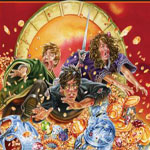 Apr 21, 2009
Last month in one of our recent exclusive casting reports, TLC was able to tell you that actor Andy Linden was confirmed be appearing as Mundungus Fletcher for the upcoming Harry Potter and the Deathly Hallows. Today, there is a new article online with actor Martin Ballantyne who discusses his role as "Scary Face" in the upcoming Half-Blood Prince as an extra with no lines, but landed a small role that is part of a scene with Mundungus Fletcher for Deathly Hallows. Mr. Ballantyne notes he is playing an "associate" to the dodgy member of the Order of the Phoenix, and says the scene involves one of Dung's notoriously underhanded sales. Quotage:
But in The Deathly Hallows the director, David Yates, had remembered me
and I was given the part of Mundungus' Associate. He is a baddy – I'm
always the baddy – and I had a few lines to learn and say."
"I couldn't believe it when I got to the Leavesden studios in
Hertfordshire a month ago and was told I had this part. The director
said 'we will try something a bit more meaty this time'."I cannot repeat the lines I had to say but it was in a scene where Mundungus is negotiating a purchase."
Martin Ballantyne goes on to note that Dung Fletcher actor Andy Linden is "really nice," and speaks abit about the remaining filming and release schedule for the two films.
"It's like a big family when you get there.
"Having this part is a good part for me because I have lines and most of the parts I have had are without lines.
"I
should be in the final film The Deathly Hallows Part 2. The Half Blood
Prince is out in cinemas in July, The Deathly Hallows Part 1 will be
out in cinemas for Christmas 2010 and the second part will be out
sometime in 2012 [sic] – although we haven't started filming that yet