Dan Radcliffe on Harry Potter and the Deathly Hallows Part One: "A Road Movie"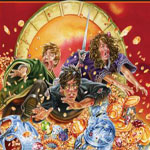 Apr 23, 2009
With press coverage beginning in earnest of late, WB has sent over the latest images from Harry Potter and the Half-Blood Prince contained in last week's Entertainment Weekly: Dumbledore and Harry on the Tower, Dumbledore and Harry at the Pensieve. HBP Set Previews galore are also set to be released, more on that soon!
In the meantime, as reported earlier this week regarding the potential split of the movies, a new preview of Harry Potter and the Deathly Hallows is contained in the special 20th Anniversary edition of Empire Magazine. Scans are now available here in our galleries thanks to our Order Partners Rupert Grint.net and DanRadcliffe.com where you can see a fantastic new photo of the Trio of Dan Radclffe (Harry), Emma Watson (Hermione) and Rupert Grint (Ron) (a small version of this is also on the cover of the magazine).
The article contains a new interview with Producer David Heyman, and actor Dan Radcliffe where they discuss filming of both movies that is currently underway. Mr. Heyman notes they are still finalising the script for Part Two, finishing up casting and working out the remaining filming schedule. At the time of the interview, Dan Radcliffe noted that he had just been filming "a big fight scene and it's great. I'm covered in dust and blood, but it's brilliant. I just get to be a boy and run around!"
Good news for fans comes from David Heyman when discussing things cut from the plot, given they are making the book into two films, as he noted "…in the end I think they'll be less edited from this film than films past because we have the freedom of making two films and I think it's going to be fantastic." Dan Radcliffe continues: "This is a road movie, particularly in Part One of the film. People have been so used to seeing Harry Potter at Hogwarts and we're just not there for the first part of the film. That seems to have really freshened things up, and hopefully will get people seeing the films with fresh eyes again, because its just a totally different look when you're not just sat in the same room the whole time. Heyman added: "They're be a lot of action, a lot of adventure, and it'll be an ending very true to the books that Jo's (Rowling) written, so if you read the books you'll really have a good sense of what's going to happen."
Dan also says in addition to filming the epilogue, " I think for me, that's intimidating is going to be the walk at the end to meet Voldemort in the forest. That's going to be really tough, but I can't wait."
This issue of Empire Magazine is on newsstands starting today. Thanks so much to Lauren, RupertGrint.net and DanRadcliffe.com!