Deathly Hallows Cast Watch: John Hurts Talks Ollivander, Legano Returns as Greyback More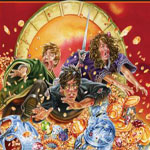 Apr 28, 2009
John Hurt is currently in New York for the Tribeca Film Festival, and thanks to AMC, there is a new interview online with the actor at the festival regarding his return as Mr. Ollivander in the upcoming Harry Potter and the Deathly Hallows. As readers will recall, we've reported several times about his potential return to the part as witnessed last month when he said he was in negotiations for the part. Those negotiations must have now concluded favorably, as today John Hurt says that he is looking forward to working on the films this year. "It was great doing it the first time, and it's quite like revisiting Quentin Crisp, except not quite 33 years in between!"It's a very crucial part of the last [book], if you think about the implications of it," Hurt said.
Also, while it has long been expected, thanks to SS for the heads up that the official page of actor Dave Legeno has been updated to reflect he will soon be filming again on "the final installment of the Harry Potter series as the role of
'Fenrir Greyback."
Finally, UHP owled regarding a character actor and comedian named Pete Perry has a bit part in Harry Potter and the Deathly Hallows. Thanks to Google, we found his website, which reads "Pete travelled to Leavesden with fellow supporting actor Louise Walpole to take part in Harry Potter and the Deathly Hallows, where they put in a gruelling twelve-and-half [hour]day on set. Needless to say, we are not allowed to say anything about this…" You can see a photo of the actor, here.
size="+1″ color="#ffff00″>