LeakyCon: 10 Harry Potter Signed Books Preview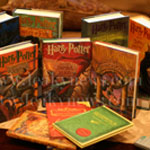 Apr 29, 2009
LeakyCon 2009 is around the corner, so here is a sneak preview of that special one-of-a-kind collection of Harry Potter books, donated by Scholastic and signed by J.K. Rowling, that one lucky LeakyCon registrant will win. Here are some pics (you can see them all in our galleries (they are heavily watermarked for security):
The books, as you can see, came with security/authenticity tags, and are individually wrapped in bubble paper for safety; they will stay this way until they change hands with their new owner.
We've also put up a video on today's PotterCast Vlogs (it has just gone live, so the HD portion will begin shortly):
Remember that you may only enter to win this set as a registrant at LeakyCon. Register here.
---
Other important info:
Remember our tickets are selling out fast, and if you're waiting at all now's the time: Register here.
REMINDER: Tickets to ALL of our keynotes are going fast (and keynotes do not clash with ANY other programming: there is no chance that when signing up for one you will miss anything else). Here, again, are the links to our other two terrific panels:
Editors and Authors: Cheryl Klein and John Green – click here to read about it, click here to register.
Nosh with the Nerdfighters – click here to read about it, click here to register.
Q&A with Michael Goldenberg – click here to read, click here to register.
REMINDER ABOUT OUR TWITTER CONTEST: We are extending the Twitter contests for our Keynote presentations. If you twitter the following phrases you or the registrant of your choice (so tell your friends to do it) may win a free ticket to the corresponding keynote. (And do not wait to see if you've won to buy a ticket: if you already have a ticket and you win, we will refund you; the winners will be announced the week before the conference). Copy and paste these into your twitter:
#1:
Michael Goldenberg, screenwriter on HP5, is keynoting @leakycon2009! Go here for details: http://tinyurl.com/d9ba8g – more @leaky!
(don't worry, the first phrase we asked you to use will enter you as well)
#2:
Nerdfighters @leakycon2009! Go here for details: http://tinyurl.com/cd4eb8 – more @leaky!
#3:
Cheryl Klein and John Green on writing @leakycon2009 – go here for details: http://tinyurl.com/cmjk2w – more @leaky!
Thanks and good luck!
Don't forget, the main LeakyCon registration includes:
Welcome Feast
Leaving Feast
The Rocking Charity Ball
THREE enormous wizard rock shows with more than 15 bands performing
All in-conference programming
Vendor Room
Podcasts, including live PotterCast, Spellcast, Spinnerscast and more
Film screenings
And a lot more – an unbelievable value that is unparalleled anywhere. LeakyCon is a charity conference, with all proceeds benefiting Book Aid International and the HP Alliance.
We will see you there!