Emma Watson Designs Jacket for Charity, New Images from Vs Magazine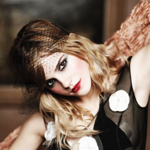 Apr 03, 2009
There are two pieces of news today regarding Harry Potter actress Emma Watson (Hermione Granger). Firstly, Miss Watson has donated a designed jacket for a charity auction in benefit of AIDS research held by the AFI Dallas International Film Festival. The jacket, which can be seen here thanks to Emma-Wason.net, will be among those items auctioned at the DIFFA/Dallas 20th Anniversary Collection Event on May 2nd, in Dallas, Texas. A preview viewing of these jackets from such designers as Kenneth Cole, Michael Simon, Geoffrey Henning, Tadashi, and St. John, will also take place on March 31st. Further information on these event can be found on the The Design Industries Foundation Fighting AIDS website.
Second, new images have appeared online from a new photo spread featuring Miss Watson from Vs Magazine. Photographed by photographer Ellen von Unwerth, the actress is seen in many different scenes and outfits for the photo spread features in the magazine. Our Order Partner also has featured a thirty second video clip that has been styled as if it was produced for a silent picture of Miss Watson during the photo shoot. The seven page preview of the photo spread is available to view here on the Vs Magazine website.
Many thanks to our Order Partner, Emma-Watson.net.