There's No Business Like Snow Business for Wizarding World of Harry Potter in Florida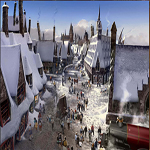 Apr 06, 2009
In perhaps a fun bit of Magic, or Muggle might at work, early concept art for the Wizarding World of Harry Potter theme park is proving to become reality. The Orlando Sentinel reports today that just as we saw in this artwork for the Hogsmeade village portion of the theme park currently under construction in sunny Florida, a company has been hired to make the village a snow covered site. The paper states that:
Universal has signed a special-effects contract with SnowMasters
Evaporative Snow Systems Inc. The Anderson, Ala.-based company builds
fake snow-making machines and offers everything from blowing snow to
ground blankets to faux icicles.

No word if Snowball fights will be available 😉 Construction on The Wizarding World of Harry Potter theme park attraction at Universal Orlando continues, with the park set to open sometime in 2010.