LeakyCon: Twitter Winners Announced, plus Whimsic Alley Registrant Special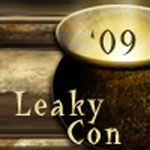 May 17, 2009
Number one: We're happy to announce the winners of our LeakyCon Twitter contest!
For the Michael Goldenberg keynote it's Courteni, or @coatkneedee. (Don't forget to submit your question for Michael Goldenberg here!)
For the Nerdfighter keynote it's Kerri, known on Twitter as MOEgir198.
And Sophie, or @lifeinapizzabox, has won a ticket to the Cheryl Klein and John Green keynote.
Congratulations guys! The @leaky Twitter is now following you; please send us a direct message with your email address and if you want the ticket to go to yourself or some other registrant. We will then modify the registration.
Number two: Whimsic Alley, a main vendor at LeakyCon, is offering a special deal for LeakyCon attendees ONLY on their costume package (available at this link), which will allow nearly free delivery charges by allowing you to get your order AT LEAKYCON. Those interested should choose "regular shipping" on their order and use the coupon code LEAKYCON. This will take $6.95 off the shipping charges for most orders; for complete Dress Up Kit orders it will reduce it by $15. IMPORTANT! You will get your order AT LeakyCon, not delivered! It would also help to include "Deliver at LeakyCon" in the "Special Instructions" box at checkout, but either way your order will be waiting for you when the vendor room opens at the conference, under the name you had in your "Ship To" address. You must make these orders no later than Tuesday May 19 at 2:00 p.m. PDT. Remember you can put in an order at this link.
And now it's time for our favorite part of the program, LeakyCon reminders!
Registration closes at 11:59 p.m. Monday. Register here.
Don't forget to connect your room reservation at the Boston Park Plaza to your LeakyCon registration: reserve or modify your room at this link. We have a very small number of rooms left in our block so go for it now. Make your reservation here or call the hotel at 617-426-2000 and let them know your reservation is for LeakyCon.
We will be holding a drawing for a one-of-a-kind 10 book signed set of Harry Potter books. Registrants will be able to enter at many of the conference's major events as well as in the vendor room. You MUST be a registrant to buy a ticket, but you may specify on your ticket that the prize is for someone else – so long as your name is also on the ticket, as valid identification will be required to collect the prize. Volunteers will be on hand at the conference to answer any questions you have.

That's it for now! Thanks everyone and we'll see you soon!