New Half-Blood Prince TV Spot on Fox: Do the Deed!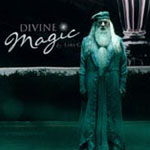 May 18, 2009
*UPDATE: Thanks much to TLC reader Zoe/Downtownpunk who let us know you can see a rough copy of the spot via this link. Thanks Zoe!
UPDATE 2: Higher quality video here courtesy The Movie Box.net!
Another brand new TV ad for Harry Potter and the Half-Blood Prince has just aired during the Simpsons tonight on FOX. TLC readers Ashley and Sarah write the ad featured Bellatrix (Helena Bonham Carter) whispering to Draco (Tom Felton) "Do the Deed." Other scenes include Snape (Alan Rickman) leading a group of people through the dark hallways, Draco taking his coat off, and Dumbledore speaking to Harry atop the Astronomy tower, noting he is 'the chosen one.' Anyone who captured the spot, please send it to [email protected]!
Thanks so much Ashley and Sarah!