Of Possible Half-Blood Prince Run Time, Changes to Soundtrack Release Date and Even More Trailers Oh MY!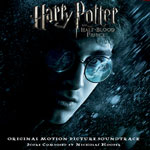 May 27, 2009
Several updates to catch up on regarding the soon-to-be-released Harry Potter and the Half-Blood Prince. First thanks to Orkim from Portkey for owling saying the British Board of Film Classification has updated their website again today regarding two possible new trailers. Both received a "12A" classification, meaning they are appropriate for those 12 and older. One of the ratings was for a trailer labeled "IMAX" and runs 1 minute 56 seconds. The second HBP trailer runs 1 minute 34 seconds. We have no idea when these trailers will be released, if they are solely for UK audiences, or when they might be online; updates will follow of course when we can.
Second, readers Michael and Peter owled to say Amazon.com has now changed the release date of the Harry Potter and the Half-Blood Prince soundtrack to July 14. As we reported earlier, and still noted via the online retailer site, the CD was to be originally released July 7. Pre-orders for the score by Nicholas Hooper do remain available here.
Finally, thanks to Jeff from HPANA for alerting us that the Pathe film website as well as a photo of an illegally leaked memo they received from an AMC theater employee state the run time of Harry Potter and the Half-Blood Prince film is 153 minutes in length. As posted back on TLC last December, Potter producer David Heyman already stated the film was running two and half-hours long. Please note: Mr. Heyman also said specifically in October of last year, they would not be putting the film together until six weeks before release to prevent piracy, so it is possible the run time will change slightly.
Thanks guys for owling!