Dan Radcliffe and Tom Felton Attend Art Against Knives Charity Auction in London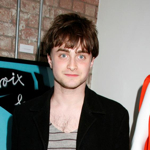 May 06, 2009
Actor Dan Radcliffe (Harry Potter) made an appearance at the Art Against Knives Charity Auction in London, England last night, along with Harry Potter co-star Tom Felton (Draco Malfoy). There are now a number of images of the two actors online from the event, which are available to view in our own Image Galleries.
On a related note, actor Dan Radcliffe (Harry Potter) recently took part in a photo shoot for Vogue Magazine which highlighted the nightlife in New York City. A short video is now online featuring Mr. Radcliffe during the photo shoot, and talking about his day as a model for photographer Mario Testino, as well as the kind of night out he enjoys. Mr. Radcliffe notes his preference for "old man pubs" with "a gig [concert] involved" for his nights out, while describing his fashion style as "laid back." The Harry Potter actor was joined by musician Mos Def and filmmaker Jamie Johnson for this photo shoot, which was published in the March issue of the fashion magazine. The image of Dan Radcliffe from the photo shoot can be seen via the website of photographer Mario Testino.
While we are aware this video is a few months old, we wanted to make sure you saw this behind-the-scenes feature of Dan Radcliffe at this photo shoot.
Thanks to Vogue.com and O for mailing!