Harry Potter and the Half-Blood Prince to Screen at Festival in Italy July 12th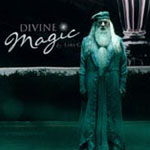 May 07, 2009
Lucky fans in Italy will get the chance to see Harry Potter and the Half-Blood Prince a few days early before it opens wide, as the sixth Harry Potter film will be screening at the Giffoni Children's Film Festival in Italy on July 12th. On the official website it reads:
We will open the new Giffoni with Harry Potter. We could not have
wished for a better start – says the artistic director Claudio Gubitosi
-. On the 12th of July the Festival's audience the children and youth,
will have the opportunity to take part in a huge event and for this I
wish to thank the President of Warner Bros Entertainment Italia, Paolo
Ferrari, and his entire team for choosing Giffoni".
Harry Potter and the Half-Blood Prince opens wide here in the US and in Italy among others on July 15, 2009. You can see a list of opening dates, here.