Detailed Description of New TV Commercial for Harry Potter and the Half-Blood Prince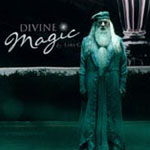 May 09, 2009
As we noted previously, the television spots for Harry Potter and the Half-Blood Prince have begun airing, the first one broadcast last night on the CW channel. Many thanks to TLC reader Honourary Weasley, who sent us a detailed list of what is contained in the commercial; anyone with video please send it in to [email protected] Honourary Weasley writes new new TV spot has:
– Shot of Hermione/Harry at the top of the tower
– Shot of crowded school hallway and McGonagall
– Ron and Harry standing at the side of the hallway in their school robes, laughing
– Shot of the speeding tube
– Harry in the coffee shop/diner. Reading the Daily Prophet. Headlines
include "Bridge Collapse: Death Toll Rises", "Harry Potter, The Chosen
One?", and "______ New Minister Promises Swift Action".( I couldn't make
out the first word)
– The waitress checks out Harry and gives him a smile. Harry checks his breath.
– Dumbledore to Harry: "What about your activities outside the classroom? I can't help wondering if…"
– Shot of Ginny, the Harry/Ginny kiss
– Harry to Dumbledore: "Oh no, no. I mean, she's brilliant, we're
friends." (Upon further review, I honestly wonder if they are talking
about Hermione or Ginny)
– Hermione smacks Harry with parchment in the library. Harry: "Ok, sorry"
– Flying Quidditch Shots
– Celebrations of the Quidditch win in the Gryffindor common room, Ron/Lav kiss
– Lavender in the Hospital Wing, with Snape/Slughorn/Dumbledore in the background
– Lavender (indignant): "I happen to be his girlfriend".
– Overhead shot of train in winter
– Nice shot of Hermione outdoors, smiling
– Ron hovering near the rings with an arm raised in victory
– In the hospital wing, Lavender leaning forward, awaiting something. (My guess is this is the "Er-my-nee" scene)
– Shot of Ron out cold in the hospital bed, Ginny sitting next to him in a chair.
– Hermione standing on other side of the bed, looking ready for a fight. Hermione: "I happen to be his…friend".
– Hermione smacks Ron with the book in the Great Hall
– Ron lying on the ground, talking to Harry. Ron: "These girls, they're going to kill me, Harry".
– Voiceover: "Harry Potter and the HBP" with the logo
– Hospital Wing – Snape/Slughorn/Dumbledore/class="ii gt" id=":7i">Harry. Snape is holding a golden cylinder looking bottle with a top resembling a teapot fliptop.
– Dumbledore: Either "Don't we yearn, to feel love's keen sting" or
"Aren't we young, to feel love's keen sting". (One of the two, it
wasn't that clear.)
– Shot of Harry with Gryffindors in the background (Seamus, Neville,
Dean, Hermione). This looks like it takes place before/after the
Quidditch match, as they are wearing their Gryffindor t-shirts and someone in the background has their face painted.
– Opening in Theatres and Imax 3D July 15.