Photos from Harry Potter and Half-Blood Prince Tour Now in London, Pics Inside Truck from Edinburgh (Updated)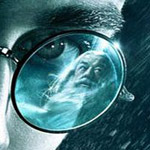 Jun 18, 2009
Yesterday, we told you the ongoing MSN Harry Potter and the Half-Blood Prince prop tour would be going to London, England this weekend. We now have the first photos of the traveling exhibition by truck which is currently in Leicester Square, where tomorrow actors Tom Felton (Draco), Matt Lewis (Neville)and James and Oliver Phelps (Fred and George) will be appearing. Fans can also tour the truck this weekend on a first come first serve basis. Also, you can see a photo of the poster outside the Empire theater regarding purchasing tickets for Half-Blood Prince. If anyone will be attending tomorrow to see the stars and take the tour, please send us your reports and photos at [email protected], we will be happy to post them!
As readers will recall, last week the tour was up in Edinburgh, Scotland and longtime TLC reader Neil sent us in his report. We now have the photos from inside the tour trucks, including this, and one of Dumbledore's chair and props from his office; the rest available via this link.
UPDATE: Lauren from RupertGrint.net made a visit to the tour this morning and now has her report online here
Thanks so much Wendy and Neil!