Near Miss for Robert Pattinson (Updated)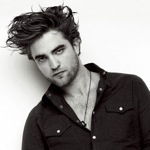 Jun 19, 2009
Actor Robert Pattinson (Hufflepuff great Cedric Diggory in Goblet of Fire) had a near miss after being clipped by a cab while filming a new movie in New York. The BBC reports that Robert was hit by a taxi as initial reports say he tried to escape a crowd of over eager fans and was nipped by the cab as he tried to cross the street. The report says Robert was not seriously hurt in the mishap, and notes: 'The actor's security guards were reportedly furious about the scuffle
and one was heard shouting: "You see what you did, you almost killed
him." The Press Association also cites an onlooker who said "It's been non-stop busy all day with
people trying to get a glimpse of him, and the crowd goes nuts when
they do see him.
Update: The Daily News has more on this, citing a spokesperson for Summit, who confirms that Rob is fine, and the cab "barely grazed" the actor. The article also cites the spokesperson as saying this incident " was not caused by his fans," but declined to elaborate on how or what exactly took place in the incident where Robert was grazed by the cab.