New Trailer for Robert Pattinson "New Moon" Film, MTV Movie Award Wins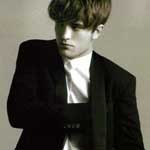 Jun 02, 2009
There is a new trailer online featuring actor Robert Pattinson, who portrayed the character of Cedric Diggory in the Harry Potter films, for the upcoming New Moon film, the second part in the Twilight saga. The trailer, which can be seen right here courtesy of ComingSoon.net, features the actor in this one minute forty-eight second preview of the film. New Moon is slated for a November 20, 2009 release.
On a related note, Mr. Pattinson took home a number of awards at the 2009 MTV Movie Awards, which took place in Los Angeles, California this weekend. In addition to the Twilight film winning the Best Film Award, Mr. Pattinson was presented with awards for Best Breakthrough Performance: Male, Best Fight (with co-star Cam Gigandet), and Best Kiss (with co-star Kristin Stewart).
Many thanks to ComingSoon.net.