Tom Felton in the News: Articles in Readers Digest, Boys Life, TV Appearance and More!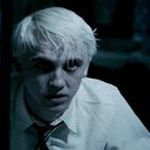 Jun 23, 2009
The publicity machine is in high gear for Harry Potter and the
Half-Blood Prince, with actor Tom Felton the source of some recent
interviews and appearances.
First longtime TLC reader Rotfang owled to let us know there is a new
interview with Tom in the July Issue of the UK edition of Readers
Digest magazine. In the new interview Tom discusses filming the scene
with Draco and Harry on the train, where Harry is hidden underneath the
invisibility cloak.
"This was the first film where I was involved in the filming from start to finish
and got to work closely with actors like Michael Gambon," he says. "You
have a certain sympathy for Draco because he's just a child whose
father Lucius has been in prison and has a huge mental battle with the
task he's been given. But this time he doesn't just express his
fragility by calling Harry an idiot. He breaks his nose."

Tom warms to his theme. "Filming that was cool. We had Dan [Daniel
Radcliffe] lying on the floor with my foot just above his head, not
quite hit­ting him. There were a couple of times I was tempted to lay
the…nah, bless him, I didn't touch him. He
clearly loves playing the bad guy. "I get to act like a complete git.
Who wouldn't want that? It's great fun scar­ing kids. I did an
interview with a class­room of about 12 of them the other day and there
was ten minutes of silence when they were keeping their eyes on me, not
daring to speak. When young­sters are invited on set, they run up and
hug Dan, but I don't get any of that.
"
The article continues:

The Half-Blood Prince, with its dra­matic deaths and romantic liaisons for several of the characters, is a grown-up film, reflecting how Radcliffe, Rupert Grint , Emma Watson and the rest of the cast have now become young adults. Tom is pleasantly surprised by how well everyone has turned out. "It seemed a certain bet that one of them would end up being a wild card, photographed brothel in Amsterdam. But they've all got their heads screwed on. I half-expected Dan to be a bit up in the air with it all, but he's untainted. He never spends any money. You go round his house to watch The Apprentice and you could be with any other guy."

It does seem, however, that girls like a bad boy. "Oh, there's plenty of
interest, not from actual women, but from the youngsters of the world.
I like to think that it's a purely aesthetic attraction, rather than
Draco's personality." But although mischief flashes across his face as he describes his dubious
alter ego, one is struck by how well­adjusted and charming he is for a
young man who's spent his adolescence as a world-famous film character. "As
an actor, you get pleasure from doing something that's completely
different to who you are. I occasionally find myself acting like Draco,
though it's usually nothing magical, but some­thing to do with roads.
My girlfriend Jade lives in north London and I live near Dorking so I
spend a lot of time on the M25. Junction 9 at Leatherhead­that can be a
killer."
Thanks to TLC reader Joseph for letting us know that last week week Boy's Life Magazine published a story in their magazine with Tom, and you can hear audio excerpts here.
Finally, several of you owled to remind us as he tweeted, Tom will be a guest on the 8 Out of 10 Cats quiz program this Friday, June 26th at 10:00 pm on Channel 4 in the UK. Phew!