Joke Shop Talk and More with the Phelps Brothers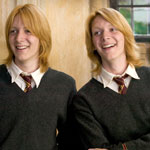 Jun 29, 2009
James and Oliver Phelps are featured today in the continuing series of articles from the LA Times. Today they speak to the two brothers who portray Fred and George Weasley in the series. Of interest are new comments about the beloved twins and their new joke shop that we see in Harry Potter and the Half-Blood Prince. Quotage:
MG: What was your favorite experience working on "Half-Blood Prince?"
OP: That would be being a part of the Fred and
George joke shop scene. The crew built an exquisite set and there are a
lot of special effects involved to simulate the magical pops and
explosions. It's a great scene.
JP: I really
enjoyed working with the crew. Most of my actual acting I was able to
complete in about two weeks. When I wasn't acting I would help the crew
set up scenes and shots. I learned a lot more about direction and
filmmaking in general and that was pretty cool.
MG: Are you often confused for each other like the Weasley twins are in the movie?
OP: It's funny that you should ask that, because we
rarely are. When we first went in for casting calls and got the part
the crew was very methodical. They said to me "You're George' and to
James, "You're Fred" and I guess it stuck because no one ever really
got confused.