Emma Watson, the New Face of Burberry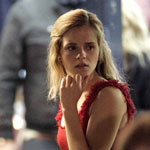 Jun 09, 2009
Actress Emma Watson who plays Hermione Granger in the Harry Potter film series has long been open about her great love of fashion, appearing in countless magazines sporting couture from various designers. She has now taken that a step further as she has officially become the face for classic UK house Burberry. Today you can see new photos of the ads for the Fall/Winter Burberry campaign featuring Emma Watson here via Marie Claire magazine. Along with photos of Emma sporting their traditional trench coats and high end classic plaid bags, the magazine reports "Speaking to WWD, Burberry creative director Christopher Bailey commented, 'I wanted the images to represent both the rich history and the modernity
of the Burberry brand, while at the same time reflecting a quiet
beauty, timelessness and strength that is particularly significant
today.' The Evening Standard has a few more photos here, and notes:
Dangling off her arm are a bevy of cute accessories, from hot male
models du jour Tom Guinness, Charlie France and Douglas Booth to
Burberry's Woolf bag, a capacious suede tote with embroidered overlay
costing a cool £1,095. The collection is inspired by Virginia Woolf and the Bloomsbury set.
Despite persistent rumours linking her to Chanel,
and her ubiquitous presence at international fashion shows, Burberry is
the first major advertising campaign that the 19-year-old Harry Potter star has snagged. It is likely to swell her estimated £8‰million fortune by six figures.
"Having
known and admired the lovely Emma Watson for quite some time, she was
the obvious choice for this campaign' said Burberry's creative
director, Christopher Bailey. "I
wanted the images to represent the rich history and modernity of
Burberry while reflecting a quiet beauty, timelessness and strength
that is particularly significant today.
Emma has a classic
beauty, a great character and a modern edge. Her charm, intellect and
brilliant sense of fun made the whole shoot feel like a picnic on the
Thames."He added: "I felt Emma would be strong enough to hold
the campaign as the only girl, and I loved the idea of her being
surrounded by these young, cool British guys." The ads will appear in magazines and online in August of this year.